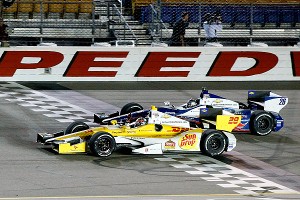 By John Oreovicz | ESPN.com
A night of unusual occurrences at Iowa Speedway ended with what is becoming a familiar result on short tracks:
Andretti Autosport and Ryan Hunter-Reay in the winner's circle.
Hunter-Reay scored his second Izod IndyCar Series race win in a row Saturday in the Iowa Corn Indy 250, the fourth in a row on 1-mile or shorter ovals for the team owned by IndyCar legend Michael Andretti.
Hunter-Reay's seventh career IndyCar race win also vaulted him from fourth to second in the IndyCar Series standings. He's just three points behind championship leader Will Power, who crashed out of Saturday night's race.
Power still fared better than two-time Iowa winner (and four-time IndyCar Series champion) Dario Franchitti, whose pole-winning car suffered a smoky Honda engine failure on the pace lap.
Perennial front-runners Helio Castroneves and Scott Dixon led plenty of laps, and defending Iowa champion Marco Andretti and his teammate James Hinchcliffe also put themselves in position to go for the win.
But it was Hunter-Reay, the 31-year-old Floridian who is the most accomplished active American IndyCar driver, who shot past Dixon when the Ganassi Racing driver got caught in traffic with 13 laps to go and pulled away to the checkered flag.
It was RHR's second triumph in seven days following his victory at the Milwaukee Mile last Saturday.
"That was very challenging," Hunter-Reay commented to NBC Sports Network after crossing the line 1.222 seconds ahead of Andretti as two Andretti Autosport cars finished on the podium for the second week in row.
"Marco tested here and we put his setup on the car with just a couple of tweaks," Hunter-Reay added. "He raced me really hard out there but really clean. We're just so happy to be in Victory Lane twice in a row, and it's great to get another win for Chevy."
Dixon made his final pit stop a few laps earlier than the Andretti cars, and a pair of crashes involving Ryan Briscoe, Josef Newgarden and Hinchcliffe gave him the caution laps he needed to stretch his fuel to the finish.
But he wasn't able to hold off Hunter-Reay, who charged from fourth to first in the final 50 laps before the race ended under yellow for Katherine Legge's crash.
"I didn't think my car was that great all night," said Dixon, who finished fourth behind Tony Kanaan. "I had to push it quite hard, and I think the Andretti cars' outright speed was definitely a bit better.
"I burnt the front tires off and started slipping back, but I think we did the best we could with the strategies and the car we had."
Andretti Autosport won the final two short oval races of 2011, and the team's engineering staff seems to have done the best job of unlocking the Dallara DW12's potential in short-track trim.
Marco Andretti won at Iowa a year ago, and Hunter-Reay's triumph last August at New Hampshire Motor Speedway kicked off what is now a three-race winning streak on short tracks.
"If James [Hinchcliffe] didn't have his problem there, I think we had a shot at a 1-2-3," exclaimed team owner Michael Andretti in a television interview. "But we'll take a 1-2. Marco did a great job, and especially Ryan. He drove a hell of a race.
"We have been competitive all year, we've been knocking on the door, and finally to break through the last two weekends has been great," he added later in a news conference. "Now hopefully we can carry this momentum for the rest of the year. I think we have two guys in a serious fight for the championship, and that's great."
Marco Andretti denied in a television interview after the race that he was upset by how hard his teammates, Hunter-Reay and Hinchliffe, raced him.
"A great team effort and all credit to the team," Andretti said. "Definitely a statement as well that Andretti Autosport is the one to beat. Two in a row for the team and two in a row at Iowa.
"But for me, I'm a little disappointed to come up short."
With Power crashing out at Iowa and Franchitti never even getting started, the IndyCar Series championship battle has tightened up and there are several new names in contention.
Power leads Hunter-Reay by three points, Dixon by 15, Castroneves (who led a race-high 133 laps at Iowa and finished sixth) by 25 and Hinchcliffe by 30.
Four more drivers, including Franchitti, are within 70 points of Power. Generally, 42 points is the most ground a driver can make up in a single race weekend.
Complicating matters in terms of the championship, competitors are uncertain whether six or seven races remain in the 2012 season as INDYCAR debates whether to replace the canceled round in China.
All but one of the remaining races are on road or street courses, beginning with the Honda Toronto Indy on July 8. The exception is the scheduled season finale at Auto Club Speedway in California.
"It all comes down to consistency, and that's how championships are won," Hunter-Reay said in the postrace news conference. "We have to go week in and week out and be consistently strong and be within the top five every weekend. Certainly the Penske team will, and the Ganassi guys and also some wild cards will show up on a lot of these street and road courses. So we have to be good there.
"But we do have Fontana on the schedule and our cars have been really good on the ovals, even the big ones," he added. "So there's still a long, long way to go, and I have the same feeling I had after I left Milwaukee:
"This is not good enough. We need to dig deeper."